New Vegetarian Dog Treats and Snacks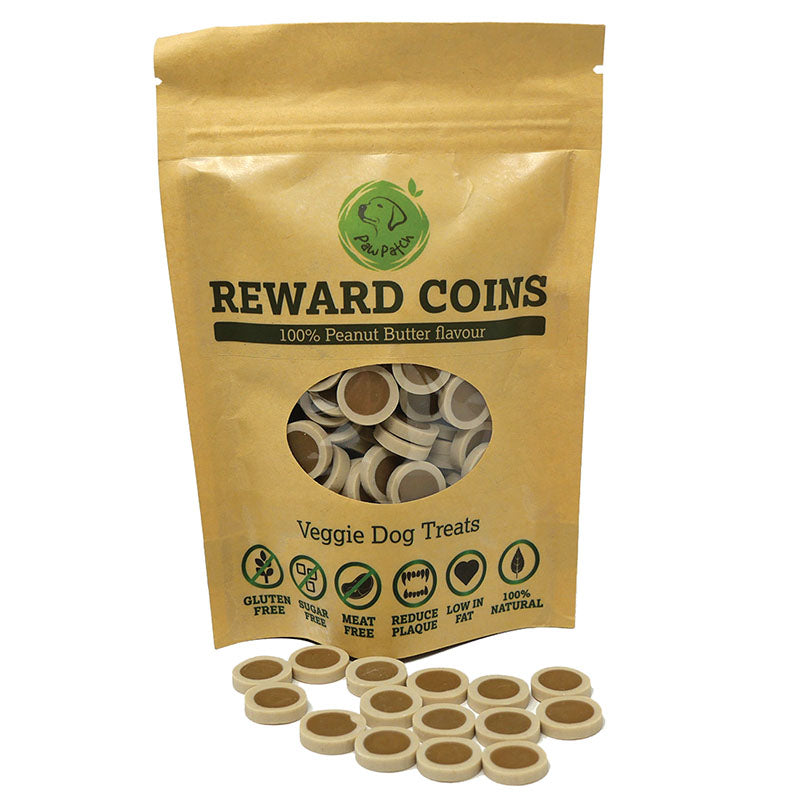 We're very excited to launch new vegetarian dog treats to our already unmissable snack selection. If you're looking for healthy veggie dog snacks that are a tasty alternative to rawhide, keep your dog's teeth in tip-top condition and are grain and gluten free - look no further than our new range.
Peanut Butter Reward Coins
Our reward coins are made with a 100% peanut butter core, surrounded by health boosting sweet potato. A flavour that your dog will find irresistible.
Training can be hard work, and without a tempting treat – next to impossible! Therefore, we worked with renowned dog trainer, Kamal Fernandez in creating the perfect mouth-watering morsel that will keep your dog focused and eager to please!
 As a professional dog trainer, I am always looking for ways to make life easier for my clients and myself. Reward Coins are a great product, easy to use, & perfect for training. Definitely currency your dog will LOVE. – Kamal Fernandez
Cheese & Tomato Straws
Full of flavour, our new vegetarian cheese and tomato straws are a great alternative to rawhide chews. Not only are they yummy, they're also Gluten, Grain and Sugar Free – ensuring a healthy and digestible snack for your beloved pooch. We love our all-natural ingredients, so here's a bit more information on what our straws can offer your dog:
Cheese - This tempting ingredient is a dog's favourite!
Tomatoes are packed full of antioxidants such as vitamin A, which is great for your dog's vision. They also contain lycopene, which reduces the risk of heart disease and promotes strong bones.
Flavoured Pigs Ears
We also now stock delicious Pig Ears that are available in two fun flavours, Natural Smoked and Peanut Butter. These tempting treats make a great snack to keep your dog occupied whilst also keeping their teeth clean!
Grain and gluten free these pigs' ears are also low in fat, so there's no need to feel guilty about treating your dog a vegetarian dog snack.  
These new healthy veggie snacks are a great additional sale to anyone that's purchasing something from your store, everyone enjoys treating their dog to a tasty snack on a shopping trip, so give one of our new vegetarian treats and snacks a go!
For more information on our new range of Vegetarian Dog Snacks, feel free to visit our New Product Releases Page on our website and Sign-up for prices or give us a call on 01273 434 145 to speak to one of our knowledgeable team members.